GTA Real Estate Market Report April 2018
Greater Toronto Realtors reported 7,792 residential sales through the Toronto MLS system in April 2018. The number of transactions in April represented a 32.1% decline compared to 11,468 transactions reported in April 2017, a record year.

For the region as a whole detached homes in the GTA experienced the largest sales decline at 38.4%.
The number of new listings reported in April 2018 was down by 24.6% compared to April 2017. The number of active listings reported in April 2018 was up by 40.8% compared to April 2017.
"While average selling prices have not climbed back to last year's record peak, April's price level represents a substantial gain over the past decade. Recent polling conducted for TREB by Ipsos tells us that the great majority of buyers are purchasing a home within which to live. This means these buyers are treating home ownership as a long-term investment. A strong and diverse labour market and continued population growth based on immigration should continue to underpin long-term home price appreciation," said Tom Syrianos, TREB's President.
The average price in April was down by 12.4% from the same time last year to $804,584 due in large part to a smaller share of detached home over $2m versus last year. Condo apartments in the GTA led the way in terms of an average price increase at 3.2% compared to the same time last year.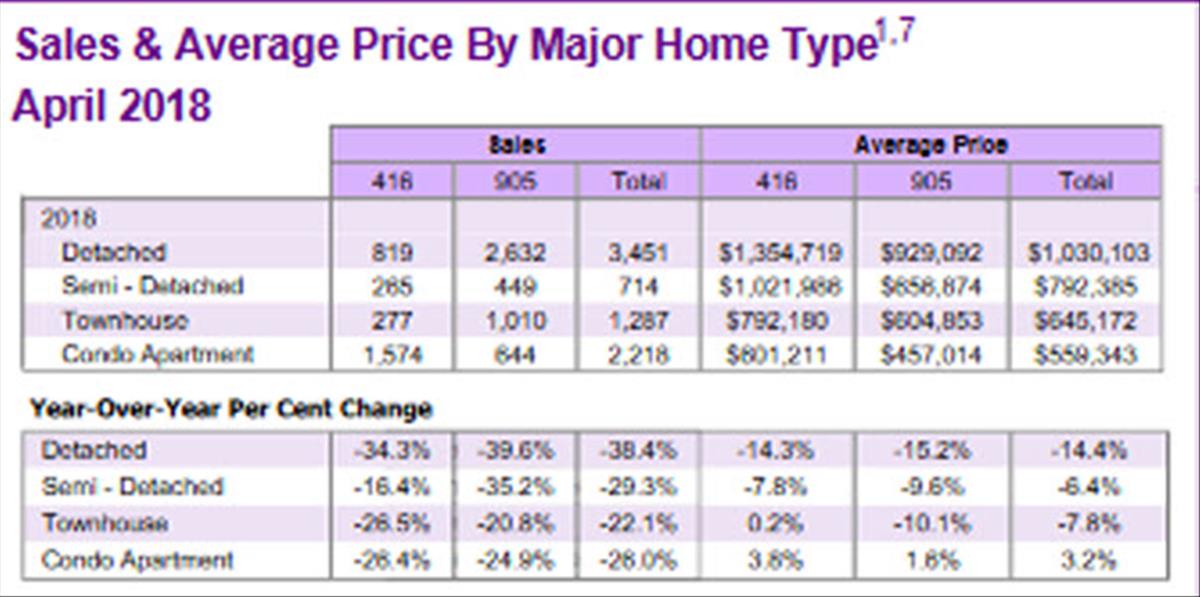 "The comparison of this year's sales and price figures to last year's record peak makes the fact that market conditions should support moderate increases in home prices as we move through the second half of the year, particularly for condominium apartments and higher density low-rise home types. Once we are past the current policy-based volatility, home owners should expect to see the resumption of a moderate and sustained pace of price growth in line with a strong local economy and steady population growth," said Jason Mercer, TREB's Director of Market Analysis.
Sales of Toronto (416 area code) condominium apartments decreased by 26.4% in April 2018. The average selling price of a Toronto condo (416 area code) increased by 3.8% in April 2018 from the same time last year to $601,211.
Condominium apartments accounted for 28.5% of total GTA sales in April while detached homes accounted for 44.3% of the total sales.
Other notable statistics include the average days on the market for April at 20 days, up from 9 days a year earlier. The sales-to-listings ratio for April 2018 was 43.5% which is still classified as a seller's market. A ratio from 24%-28% is considered a balanced market.
Sellers are looking for market value for their property. I prepare a comparative market analysis (CMA) for all of my Buyer clients prior to submitting an offer to determine the property's market value range.
Real estate is very neighbourhood specific, building specific and even very street specific in some areas. The numbers as reported above are GTA averages. Results in one neighbourhood , on one street or in one building do not indicate that all other neighbourhoods, streets or buildings are experiencing the same results. We are still seeing multiple offers in some areas for the best homes and condos.

Do you have any questions about Toronto Real Estate? Please contact me direct at or by email, David@DavidStoddard.ca
** You can follow my real estate posts on FACEBOOK. Click here to LIKE my real estate page
Oh, by the way......if you know of someone who would appreciate the level of service I provide, please call me, text me or email me with their name and number. I'll be happy to follow up and take great care of them
GTA real estate market reports David stoddard referrals CMHC Genworth Capital Toronto distillery district condos harbourfront condos queen west condos condos east of yonge st. condos west of yonge st. bay st. condos yonge and eglinton condos downtown toronto condos Real estate Toronto Toronto real estate buying a condo in toronto buying a home in toronto david stoddard david stoddard real estate david stoddard realtor david stoddard remax Toronto home buyer seminars Toronto home buyer workshops home buyers plan Toronto real estate seminars Toronto rrsp seminars toronto condos toronto home statging toronto home staging videos fit to buy fit to sell toronto condos for sale toronto homes for sale toronto real estate market reports toronto real estate investing mortgage financing entertainment district condos liberty village leslieville condos cityplace condos king west condos inspiration renting in Toronto Canadian foreclosures new construction in toronto home renovations Toronto neighbourhoods property taxes toronto bridge financing city of toronto real estate Tarion David Stoddard Testimonials Toronto condo Hot List downtown toronto condo listings toronto condo listings downtown toronto condos for sale downtown toronto condo living toronto condo living search downtown toronto condos for sale search toronto condos for sale home inspections home inspectors curb appeal remodelling cost vs value downsizing suing your neighbour seller's market buyer's market chmc premiums toronto land transfer tax Ontario land transfer tax stacked townhouses row townhouses streetcar developments The Taylor-Leslieville The Taylor Eglinton crosstown LRT metrolinx tonge and eglinton lrt low rise condos TREB Toronto Real Estate Board TCHC Toronto Community Housing Corporation 19 Brant St. Toronto BMO Bank of Montreal urbanation toronto housing market trends GTA condo market report q1 2014 best renovations to add value renovations one park place south tower one park place south home renovation contracts yard sale for the cure yard sale for the cure-davisville villag RE/MAX yard sale for the cure top 10 neighbourhoods for condo construc mortgage penalties Daniels Guvernment and Kool Haus real estate deposits 156 Rhodes Ave airbnb Q2 GTA Condo Market Report Closing Day home service providers brian baeumler homestars home service plans home warranties Axiom condos Axiom II 763 Bay St Residences of College Park toronto real estate market report august remax hallmark realty remax hallmark remax remax hallmark realty ltd. brokerage condo insurance deductible condo insurance 900 Mt. Pleasant Rd Toronto Condo Prices 2014 micro condos second suites accessory apartments. landlords self hel Toronto real estate market report septem toronto downtown south core home winterization aquavista aquavista by tridel The Top 10 Restaurants for Corporate Eve toronto real estate market report octobe new purpose built vs condo rents new purpose built condo rents 33 harbour sq basement flooding Art Shoppe Condos remax housing outlook report 2015 toronto real estate market report novemb Toronto real estate market 2014 toronto condo market 2014 1 king st w one king west 1758 Esterbrook Dr citylights The Art Shoppe Condos Daniels Waterfront Condos Rosedale on Bloor gta condo market report q4 2014 GTA Real Estate Market Report January 20 31 Presteign Ave Parkview Hills tax deductions tax credits RC3 River City 3 Canary Wharf River City toronto real estate market report Februa dna3 east york Q1 GTA condo market report toronto real estate market report March Grid condos bathroom renovations Toronto condo tour toronto home tour toronto real estate market report April 16 Arnham Rd. 121 prescott ave prescott ave corso italia weston-pellam park GTA Real Estate Market Report May 2015 GTA real estate market report june toronto condo market report q2 2015 water quality toronto market report july 2015 59 East Liberty St wett inspections remax 2015 luxury market report Toronto Condo Report Q3 2015 home buyers' plan condo amenities energy efficient home 1246 waterpoint st 45 charles st e chaz condos toronto real estate market report decemb learning apps toronto real estate market report januar 1030 king st w.113 forbes cr milliken mills east termites sales awards toronto condo market report q4 2015 toronto condo market report Q1 2016 loggia condos the queensway 1040 the queensway ave toronto real estate market report may 20 toronto real estate market report june 2 toronto condo market report q2 2016 toronto real estate market report july 2 2A Shank St maxim condos 398 eglinton ave east toronto condo market report q3 2016 luxury real estate market report 2016 remax housing market outlook 2017 toronto condo market report q4 2016 humber bay shores 5 marine parade dr grenadire landing fortress real developments toronto condo market report Q1 2017 remax 2017 spring market trends report Toronto condo market report Q2 2017 45 carlton st the lexington lexington condos 325 kingston rd toronto gta condo market report q3 2017 the luxury real estate market 2017 remax housing market outlook report 2018 toronto real esate market report january GTA condo market report q4 2017 toronto condo market report q1 2018